Auburn Cord Duesenberg Museum
The Auburn Cord Duesenberg Museum opened it's doors in 1974 and has been a world class museum ever since. Using the beautifully art deco styled former Auburn Automotive Company's headquarters as it's home, the museum transports you to a time where elegance, style, and passion ruled the automotive scene. The museum tells the story of the Indiana's automotive heritage focusing on Auburn Automotive Company and it's charismatic leader, E.L.Cord. It is a great place to see our automotive history, from the horseless carriages of the early 1900s to the magnificent chromed automobiles of the 1920 and 30s. Visitors also have access to reference materials and historical data in the Reading Room every Monday and Tuesday from 9am to 5pm. This museum is a definite must see!

1600 South Wayne Street, Auburn, Indiana, USA

---
Auburn Cord Duesenberg Festival
Auburn Cord Duesenberg Festival - If your in Indiana on Labor Day weekend, you are in for an additional treat! The Auburn Cord Duesenberg Festival is held every Labor Day weekend in Auburn, Indiana. It is heralded as the world's greatest classic car show and we believe it!
---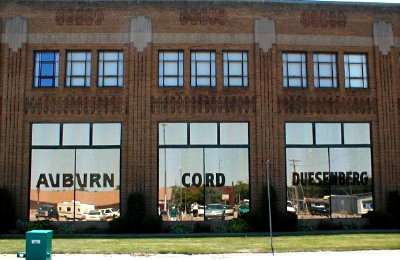 The former art deco headquarters of the Auburn Automotive Company.
An Indiana historical marker graces the outside of the museum. It reads: "Auburn Automobile Company (1900-1937) Art Deco Style Administration building, built in 1929-1930. Housed departments of Cord Corporation, manufacturer of Auburn, Cord, and Duesenberg automobiles. Became Auburn-Cord-Duesenberg Museum, 1974: listed in National Register of Historical Places, 1978."
---